Based on sensational discovery of the C.H.A.R.I.S.M.A.'s founder, insightful Rozalina Gutman,

SENSORY SOBRIETY GUIDE

FOR FUGUE-PARODY BY J.S.BACH

transformative tool for Expressive Arts counselors with/without musical specialization





Click to hear the performance that illustrates sensational discovery of the Fugue-Parody by J.S.Bach, unearthed by Rozalina Gutman
Scroll down to read about the making of the sensational discoveries by our founder Rozalina Gutman, and the time-limited opportunities to write your name into the history of the Humankind, by supporting the daring-driven uncommonly impactful intellectual strive at incredible self sacrifice, in order to SAVE RHE FUTURE OF THE H7MAN BIRTHRIGHT, and to propel evolution of the human brain through the unique development of the turnkey applications, based on J.S.Bach's music
VISUAL SCAFFOLDING

(fragments)
for integration of Expressive Arts & Music Therapy Modalities
for counselors with/without musical background
EXPERIENTIAL SONIC PORTRAIT OF
COGNITIVE DISSONANCE
in J.S.Bach's Fugue-Parody
recently unearthed by Rozalina Gutman
©️

2015-2021, Rozalina Gutman, C.H.A.R.I.S.M.A.
Foundation
The example of creating authentic musical identity of the melodic elements of the Subject and two Countersubjects of the Fugue-Parody by J.S.Bach, and their synchronistic interactions, mutual influences and transfigurations in polyphonic context, used as the high efficacy metaphors for the elements of the compound PTSD that are hard to grasp otherwise.

Just like many celebrated musicians and esteemed J.S.Bach scholars of the past and present, at first Rozalina Gutman could not grasp the real meaning of J.S.Bach's Fugue-Parody at the time when she was assigned by her teacher to play it at the musical college entrance exam. This revelation came to her only three decades later. (See COMPARISON compilation for estonishing result of deactivated senses among most gifted representatives of the human race.). But, at the age of 14, she enthusiastically and diligently researched all related scholarly publications and listened to all available recordings by renown pianists, following them as the example. And as the result, her exam performance recieved the highest grade, allowing her to enter very competitive college music training program. Like most of professional musicians of the past and present, who were required to study and to perform J.S.Bach regularly at various college exams, unless she followed this false tradition, she would not be able to enter and to move through the path towards receiving her professional music educator's degree and teaching credentials from one of the world's most sophisticated music education system ever created (thanks to being well-funded by the governments of the countries, that at the time were a part of Soviet Union.)
(One of a number of 300 y.o. questions that J.S.Bach 's music legacy continues to reflect and to pose to today's neuroscientist: Why and how could this convention of the false "Golden" standard manage to sneak in and pollute even the world's finest music education system, and had become widespread and "international standard" for most music education institutions worldwide? )
Only three decades later, during one of the darkest moments, when everything failed in the life of this gifted, insightful, and yet most underprivileged starving musician, when she had to live a day at a time, relying only on music's healing power, the absurdities of the convention became not only irrelevant, but had to be abandoned, since it became an obstacle to the healing force of this music, that she felt all along intuitively, but was always reprimanded for by her well-meaning teacher. And this decision to trust her own senses worked as the real magic and delivered epiphanies of the new level of clarity:
Only those musicians, who would follow J.S.Bach's own conviction to perform his music with the bold emotional expression, could enjoy such a bold humorous musical parody he had written. Laughter in the company of the Maestro is the most special reward for following daring Music Therapy Master on the journey to emotional self-liberation. The unearthing of this musical joke of all time Music Genius showed his deliberate defiance of the time's musical rules and thus any performer of his musical joke has to break the ludicrous emotional repression dogmas of his time, demonstrating new, informed by his music concept of what "historically informed performance" is when it comes to defiant J.S.Bach.


Additionally, the discovery of his Fugue-Parody made it clear that J.S.Bach's music does not need special rules that restrict emotional expression, since its creator deliberately defied the rules of his time, and had exercised his special ability to do so, setting the new directions in music snd music therapy, and followed by other prolific composers-classics of the next generation... And among many other outcomes, musicians who play his music expressively, may no longer be accused in "committing the highest number musical crime of romanticizing J.S.Bach", but instead should be encouraged and praised for following the footprints of this all time foremost Genius Music Therapist in creating the most authentic connection with the audience through enjoying the beauty of all intricacies of his emotionally resonant music that allows for authentic expression...
And yet, even then, she still felt that she had to dare to break from the habitual and common emotional withdrawal, despite the indisputable evidence she found as well, and due to the expected retaliation to change in the professional music field...
But the results of following logic and heart were well worth it, indeed! The outcome of the artistic liberation was the first revelation of the blind spot, resulting from the blocked by convention vision and hearing senses, that followed by other insights, thanks to the ability of J.S.Bach's music to reflect our reality in the most powerful and profound ways upon achieving the sense of emotional liberation in his genius, filled with intricate complexities polyphonic music.
And among them came her clear understanding that her musical icon J.S.Bach avidly fought against this pathological trend of emotional repression, paradoxically, while taking incredible risks for self and family, and was thrown to jail for a month on November 6, 1717. And during his time, he had to dare to break the conventional music rules even more, ending up being thrown to jail for that, as well as for speaking the truth to the power, driven by the same obligation of the greater good, as his icon - the world's most famous whistle blower Jesus Christ.
So why did J.S.Bach risk so much, and became a controversial figure, unlike many other musicians of his time?.. This is also one of many 300 y.o. lessons J,S,Bach continues to pose to today neuroscientists.

No, not due to attributed to him "bad temper" he insisted on using prohibited dissonant sonorities... Contrary, his insistence was the result of his visionary ability to grasp the trends of the struggling with evolutionary relics human mind and to offer the musical toolkit for its advancement in the Hugh efficacy form of polyphony. And despite being followed by many of his virtual students, who had earned the title of CLASSICS at the Pantheon of Musical Fame throughout the music history, his music remains as the stellar achievement in healing properties, including incomparable ability to restore emotiona/intellectual balance, essential for optimal function, disrupted by stress /trauma, as well as to become aware and to address the trauma's outcome of tunnel vision. His unique choice of compositional tools in his music is the key to help propel evolution of the human brain and thus, to change the future of our civilization. And yet, having to be at the mercy of his uncivilized neighbors with the provincial castle town mindset did not allow for his visionary ideas to be implemented fully. In fact, archival records prove that J.S.Bach's (!) proposal for expanding HIS education program was denied funding by the City Council of Leipzig...
Most paradoxically, Ms. Rozalina Gutman attributes her ability to identify previously unnoticed features of his musical legacy, thanks to startling similarities in the faith of both musicians, made to be "starving" by the dire incivility of those with formal and informal powers in our society, despite living 300 years apart. (And the mystery of the same date for some of the most dramatic events in her life and the life of her icon is as sensational, as her discoveries... Subscribe for upcoming releases of her sensational detailed biographical narratives.)
The way our society treats the intangible and yet invaluable matter of Music & the Arts and musicians and artistes, had not changed much for 300 years, most paradoxically and to the great detriment to our Human civilization. And those who are in the vanguard positions of formal and informal intellectual leadership have an obligation to support our unique and promising strive to assist all members of our civilization in recognizing the pressing need to utilize this underutilized yet powerful, and intangible tool for transforming evolutionary young and often misfiring human brain.
Until then, the leadership of all levels has no right to proclaim the arrival of "The Age of Progress", since the associated with that production of yet another, newer technological gadgets does not improve the critical for our sustainability functions of the human brain, including those responsible for sensory awareness, critical for informing our self-preservation instinct, as well as various aspects of the civility and moral foundations that allowed for the collective survival of our species for millennia in the past, and that must remain for the sake of our shared future.
A few years after making her daring-driven discovery, Ms. Rozalina Gutman had stubled upon the underpublicized, yet most significant hard document evidence with J.S.Bach's own signature that answers the need to make official the permission to enjoy his music to the fullest, each note and each turn of each melody... And as the result, his music enabled so much of INNER RESONANCE that is most critical for using it for healing and restorative purposes.


This discovery now allows other musicians and their audiences to begin similar journeys to their emotional liberation, led by the visionary music of J.S.Bach. If they would choose to follow this path that Rozalina Gutman took, they too would find much satisfaction on their journey towards their Higher Human Potential, and they too can expect EUREKA! moments of discovering unique pathways towards emotional freedom from the compound and thus, hard to discern without musical embodiment PTSD of the traumatic cognitive dissonance that clouds clarity and is referred as "the prism of trauma", resulting in the blind spots of various nature. Indeed, nothing, no material goods, no luxury items can be more precious than the tangible ability of an individual to be capable of self-mastery and self-growth through the effective music-based self-reflection. (Our ancestors forwarned us to avoid the fixation of the Golden Idols, as the false priority in our life, and their words are as current and urgent as ever!)
The false educational standard, that banned emotional expression in J.S.Bach's music had been based on the distortions of his biographical facts. And, the leading authorities on his legacy should have clearly established at least in 60's, and decades ago that false excusiology has no merit to traumatize and enslave more and more victims of their resentment to change, practiced by those in the positions of intellectual leadership, while being unfit for such task... And as the result, the majority of pianists, with only a few exceptions avoid including music of J.S.Bach into their concert tours and recordings. No, of course, the music of J.S.Bach was not intended to be just a dry technical exercise. Of course, when the deeply emotional and composed to be intense music of his is forced to be performed with emotional withholding, it creates much inner discomfort and is traumatic (while caused by that trauma and associ cognitive dissonance is internalized and often unrecognized), instead of creating contrary and intended by the composer sense of release of emotional tension, in order to be effectively utilized for similar to the above applications for therapeutic purpose of seeking for the relief from cognitive dissonance and achieving satisfying outcome in one of the most challenging tasks that finally presents THE MOST SOUGHT AGTER, UNBOUND OPPORTUNITIES FOR INNER GROWTH, SELF MASTERY AND COGNITIVE ADVANCEMENT BEYOND COMMON BLIND SPOTS. And, every musician who had been the victim of this hard to recognize impact of the above distortion deserves to find emotional resolution and to achieve the freedom from emotional imprisonment, as well as to pass on the same opportunity and to share these experiences with their audiences, allowing them to sense similar soul illumination, finally serving justice to the true intentions of the composer J.S.Bach.
Support us in our strive for moving forward...
We hope, you agree that one audience at a time, one internet transmission at a time that can travel the world is all it takes to transform the minds of people throughout entire world, as this gift of J.S.Bach deserves to be passed on and shared on and on. Indeed, this ancestral tool for propelling still evolving human brain towards advancement, nurtures cognitive improvement beyond our brain's evolutionary limitations, and that is why, EVERY new achievement of emotional liberation among musicians will have multitude of multidisciplinary implications throughout the entire society.
Indeed, critically important lessons are yet to be learned by today's neuroscientists with the help of 300+ y.o. musical pieces composed by the timeless Polyphony Master and foremost Music Therapist J.S.Bach. And the investment into such promising endeavors is most certainly to yield the invaluable, yet most tangible results in every part of our reality and beyond any expectations.

USE THE CHANCE TO WRITE YOUR NAME INTO THE HISTORY OF OUR CIVILIZATION
We desperately need urgent help to intensify the creation and facilitation of the modalities to help both musicians and audiences with the above process of recovery from the impeding distortive tradition of disabling clarity emotional repression, the root of most of the trouble in our mind and our reality.

So, join us in support and team up with us at the inception of this exciting history making effort in any ways that appeal to you, or in all ways you believe it would speed up manifestion of our exciting discovery that would benefit each and all of the users of the human brain - donate, volunteer your pro Bono professional assistant, help spread the healing truth, provide feedback, or offer something that should have been listed, but is yet to be added here...
Example of creating musical identity of
the melodic elements of the Subject and two Countersubjects of the Fugue-Parody by J.S.Bach, and their synchronistic interactions, mutual influences and transfigurations
EXPERIENTIAL SONIC PORTRAIT OF
in J.S.Bach's Fugue-Parody
recently unearthed by Rozalina Gutman

Fragments of the Visual Scaffolding
for the purpose of integration of Expressive Arts & Music Therapy Modalities for counselors with/without musical background
©️

2015-2021, Rozalina Gutman, C.H.A.R.I.S.M.A. Foundation
Civil Obligation to LAUGH and to DEMAND for 300 y.o. Overdue Apology to J.S.Bach
and all musicians of all times, and to the Humankind!


Poster presentation by Rozalina Gutman
for 33 World Conference of Intl Society for Music Education, Baku, 2018
Civil Obligation to LAUGH and to DEMAND for 300 y.o. Overdue Apology to Bach and all musicians of all times, and to the Humankind! Poster presentation by Rozalina Gutman for 33 World Conference of Intl Society for Music Education, Baku, 2018
Join initiated by Rozalina Gutman LIBERATE BACH! Bach-led Intl Campaign for emotional self-liberation for musicians and their audiences

If Bach could cross the time barriers and manifest into our reality, he would have to face the most unbelievable paradox of remaining self-defeating incivilities in our Age of "Progress":


despite leaving for the next generations the gift of his polyphonic compositions, that could have been utilized as the tool for the cognitive advancement, we as the society and as individuals, continue to lack the opportunities for accessible for all venues for music education and therapy, DUE TO THE UNIVERSAL NEED TO OVERCOME EVOLUTIONARY CONFLCTS BETWEEN THE PARTS OF THE HUMAN BRAIN WITH DIFFERENT EVOLUTIONARY AGE.



And as the result, we all suffer from both absurd and painful blind spots, causing us losses and health calamities, due to multitude of misfirings and malfunctions in the human brain.
Join us in our effort to improve this mulfunction that hurts self and others. Enable us to deliver our unique scaffolding for Bach's HIGH EFFICACY TOOLS OF RESTORING EMOTIONAL/INTELLECTUAL BALANCE, ESSENTIAL FOR OPTIMAL COGNITION.

Those individuals who practice music and the Arts possess more advanced brain structure, according to the recent MRI research. However, the appreciation of the society for this advantage has not be achieved and is lacking similarly to Bach's time. Instead, more capable thinkers with higher intellectual power are often the subject of hostile retaliation from those, who don't deserve to possess the power, but occupies authority chairs nevertheless... And Dark Ages'attitude of retaliatory hostility is detrimental not only to the artists and musicians and their fans, but to many future generations...The anove example of vicious retaliation to a patient (musician) who sadly knew more than her doctor about one of the most devastating blind spots in our societ - women's heart disease is most similar to suffering of Bach from misusing police for his character assassination. POLICE IMPUNITY CONTINUES TO REMAIN AS THE INSULT TO THE JUDTICE SYSTEM AND PUTS AT INCREDIBLE RISK EVERY MEMBER OF OUR DEMOCRACY WITH NO EXCEPTION.
Please, raise your voice to ADVOCATE FOR THE ARTISTS who are often in the most unfortunate position in our society, like in the case of below outrage: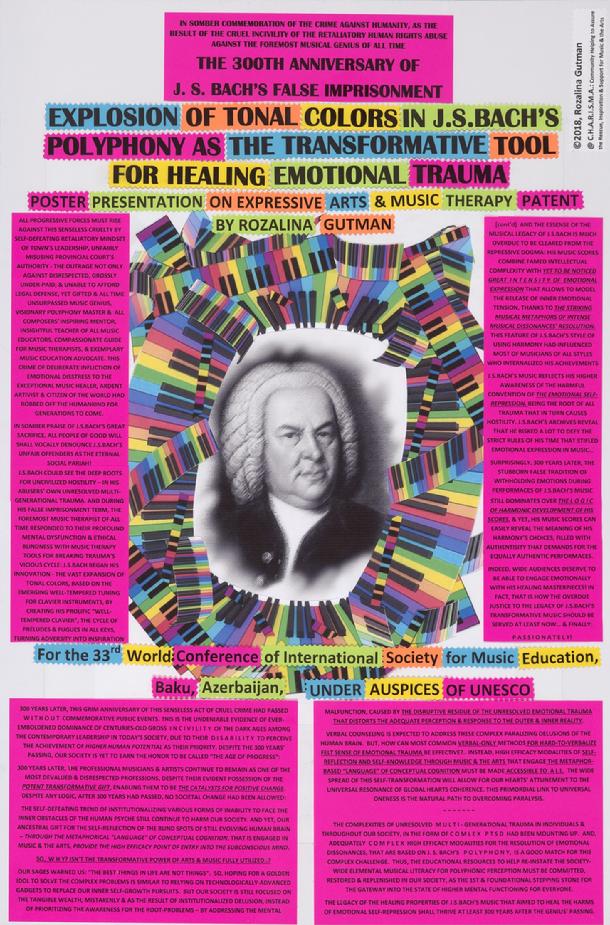 Poster Presentation @ 33rd World Conference of ISME, Baku, 2018; Fragment of the Visual Scaffolding for the purpose of integration of Expressive Arts & Music Therapy Modalities for counselors with/without musical background ©2015, Rozalina Gutman, C.H.A.R.I.S.M.A. Foundation
~_~_~_~_~_~~_~_~
~_~_~_~_~
~_~
SPECIAL BENEFITS FOR THE SUPPORTERS
OF OUR URGENT STRIVE TO LIBERATE THE SPIRIT OF J.S.BACH, ALLOWING HIM TO BRING COMFORT TO THE VICTIMS OF OVERWHELMING & HOPELESS INJUSTICE & TO ASSIST HARASSERS IN OVERCOMING MORAL BLIND SPOTS
THE UNEXPECTED & UNCONVENTIONAL SOLUTION TO THE ROOT OF MOST OF BLIND SPOTS OF THE HUMAN MIND &
300 Y.O. FUN & ENTERTAINING LESSONS TO TODAY'S NEUROSCIENTISTS FROM J.S.BACH
Are you a part of the majority of people, who had never heard and don't know of the term EXPRESIVE ARTS AND MUSIC THERAPY, including musicians and artistes? Are you among many of your friends who don't know that it involves VERBAL counseling, as ONLY ONE integral part of the cognitive behavioral therapy, bringing otherwise missing high efficacy to the process?
This approach to self-growth is rooted in FELT SENSE-based practice of self-expression that allows an individual to go back to METAPHORICAL language of conceptual cognition, practiced by all of us during pre-verbial period and then, abandoned...
This is an essential gateway for self-understanding that allows to tap into their own unconscious mind to get informed about what has become invisible and un-sensored in the realm of our own dumbed down and self-repressed pain and other feelings that determine our priorities on various levels, both conscious and unconscious.
Clinical psychology training, based on verbal -only counseling PARADOXICALLY DOES NOT provide the ways for re-patterning of the mental blocks, and does NOT aim to offer the assistance to the arrival of the individual to the FELT SENSE of THE ROOT CAUSES of their trauma either. So the core issues of their trauma never get recognized, addressed and resolved. This paradox is also the outcome of the misfiring evolutionary young brain that is the collection of the parts from various evolutionary periods and their related conflict with one another...
And as the result, most of our blind spots never get merely recognized and so, they remain as unresolved barriers, since no step of repatterning of misfiring synaptic networks from residual trauma takes place, due to the gigantic blind spot in the field of the clinical psychology, both individual and societal?
And that is the core reason for the overwhelming collapse and paralysis of many parts of our society in all realms of it, with too many examples of painful and costly failures and absurdly false outcomes.
So, what can help solve the problem? Why the leaders in the psychology field know about this, and yet do nothing meaningful to prioritize this cognitive fitness issue to be the top priority in the field that is responsible for it? The answer is both simple and complex:
Practitioners of the Expressive Arts therapy know that if a client was exposed to the Arts and music practices during childhood, it is a natural resource they can tap into during the crisis. But if not, it becomes yet another additional obstacle to overcome and may not work just for this absurd reason of lacking arts literacy, and absence of the metaphorical "vocabulary" as the result of the limited access to the Arts for ALL. Indeed, the level of sanity in our society depends on the accessibility of practicing the Arts and music.
It may appear unexpected, but music and the Arts PRACTICE is where the solution for this complexity of our brain is, and it may not be oversimplified any longer in our society. No, the inherited incivility of multitude of the blind spots may not continue to hurt much more and cause more of tremendous losses and suffering. Investment into expanding self-awareness and thus, increasing the level of mental health is obviously a very good yield investment into every part of our society.
However, the issue needs and deserves vocal advocacy, since it can be obvious only to those policy makers, who are capable to grasp this obvious reality without oversimplification of the complexity, who possess the type of mindset that includes versatility in conceptual and abstract cognition, along with symphonic vision and polyphonic multitasking. And due to the compound challenges of looming planetary collapse, we may not compromise on this critical requirement of intellectual leadership, since now it determines our sustainability, our very survival.
Only one example of such brain paralysis that results from the societal blind spot that is the outcome of our individual and collective lack of priority to object health hazards of environmental catastrophe that we, the carriers of the human brain had created for ourselves, is due to the fact that we've lost our most critical sensory capacity to feel our own pain that should inform us of the hazards on the level of self-preservation instinct, but it no longer does, due to the epidemic of SENSORY DEBILITATION.
[And to begin to understand the depth of this catastrophe, please, watch the documentary STINK! on Netflix re. artificial fragrances (and let me known what do you think of it). Yes, indeed, it will help you and yours in the most critical for your brain manner of protection and prevention of neurotoxins from causing cancers, dementia, diabetes, autism, MS, Parkinson's , Alzheimer's, heart, lungs, liver, kidney and multitude of other diseases...]
We, as the society and as individuals had somehow forgotten that Music and the Arts had evolved not as a luxury, but instead, as the ancestral tools for dealing with the deficiencies of the human brain, struggling with evolutionary relics in its structure. Our sense of priorities is directly dependent on our sensory capacity, or rather - it should be, but it NO LONGER is! And without addressing this underlying issue, the problems, associated with the material manifestation of environmental catastrophe won't be prioritized, and thus, the urgent and at times challenging decisions would not have a chance to help us assure sustainable future...
Of course, these prioritizing abilities are critical for the effective leadership capacities, for being prepared and capable to assure sustainability and to facilitate the change. Due to the brain plasticity, we are often ruled by inertia, rolling on and on through the old path of detrimental for us mental patterns. Even individual change is not simple to accomplish. So when it comes to the need to change societal patterns, without intellectually strong, capable of adequate reflection leadership, driven by the balanced brain and symphonic abilities to sense fluid and complex priority system, based on reawakened sensory function, will make the choices of personal and collective sustainability, as determined by the traditional ethics to be more important than any of the corrupt political games. Indeed, no individual with clear priorities for own health and safety would justify getting a legalized bribe in the form of political campaign contributio, since no amount of money can buy their health from many cancers and other above listed illnesses triggered by the cumulative effects environmental hazards, as it is currently routineiy done by the US Congress representative, demonstrating evidence of self-defeat, as the form of localized insanity.
Indeed, to a degree, we all are affected by the experiences of blind spots of our still evolving human brain, and without meaningful strategy to learn from J.S.Bach's lessons through systematic studies and refinement of the provided by him tools for mediating evolutionary relics of the brain development, we can not hope for sustainability of our society. So far there is no viable alternative. The core problem of most mulfunctions could and should be addressed, as the urgent counterpoint to the self-destructive policies and traditions that must seize, with no chance to continue to rule our lives by inertia.


The newly heightened level of existential challenges in our life demands for the capacity for the innovations in all parts of the society. But how can we expect for the changes to manifest in our outer reality, unless we use the strategies that foster critical for us positive changes in our brain? Luckily, the new type of mindset for the sustainable leadership to pursue the goals for the sustainable planetary mindset can be achieved - through applying cognitive technology with the above discussed balancing impact.
The logistical facilitation of the implementation of this transformative strategy in various settings is the key to success, and should be tackled with urgency.
And, when it comes to facilitating the change, Music and the Arts, as the creative "playground" for experimentation and for testing not only the ideas, but also for practicing the actual process of change and increasing the inner capacity to identify the need for change, to facilitate and to engage with the necessary novelty, to commit to new patterns, and to thrive through transformation process, despite the challenges. And Music, one of the most experiential types of the Arts that is most helpful for allowing to experience the sense of changes, can be very effective in such preparatory stage of MODELING THE SENSE OF CHANGE, developing the emotional readiness and helping to identify any emotional hindrances and mental barriers. (Engage with this sing along song "Change Is the Only Constant").

And when it comes to execution of the organizational shift, such as the shift in the institutions that are involved in leading the reforms, the leadership that is capable of change is the key to THE SUSTAINABILITY, and therefore, can not be compromised.


The true intellectual leadership depends on the balanced cognitive function. And luckily, there IS hope to achieve it: Despite the complexity of the problem, it has been solved 300+ years ago by the timeless unsurpassed Genius J.S.Bach, who had provided the toolkit for re-balancing the disrupted by stress and trauma emotional/intellectual balance, critical for optimal cognition and increase mental productivity of the human brain.
However, turning on any J.S.Bach recording and playing it in the background isn't enough yet, although it may appear to be close to the solution. But without knowing how to get involved with his music on a personal level, in the sense of using it as the therapeutic tool for self-mastery, his magic may continue to remain hidden and untapped... J.S.Bach's Music delivers the container for our authentic engagement by involving into emotionally/intellectually balanced perception, helping to restore its presence after stress and trauma disrupt it, as well as to build the resilience to trauma and stress.
THE PRESSING CURRENT NEED TO OVERCOME THE CONSEQUENCES OF EMOTIONAL WITHHOLDING IN MUSIC, "THE LAST LINE OF DEFENSE " FROM EMOTIONAL REPRESSION

Unfortunatel, the majority of the existing recordings of J.S.Bach's music contains dispassionate renditions that harbor cognitive dissonance, due to the intensity of compose's intent, and thus, can not be used effectively for this important task. This is yet another paradoxically absurd institutionalized for centuries blind spot that imprisons J.S.Bach's music and strips away its power, so it could not be fully harvested for therapeutic and developmental applications:
even the music of this composer, who had risked a lot to oppose emotional withdrawal in music and to unleash its transformative powers, has been subjected to THE EMOTIONAL REPRESION, by creating false educational standards for musicians, forbidding for emotional engagement with the music of the composer who had emphasised it with his compositional tools choices. And many musicians need specialized re-training and coaching to address the long lasting effects of distortive educational standards that had to endure.
That is where the core solution for most of our brain malfunction currently resides. This approach needs tangible resources for collaborative work with brain scientists to observe the processes of calibrating and development, along with longitudinal studies, along with raising public awareness and information dissemination. Despite complexity, the critical for sustainability success of this process will lead to the wave of positive shifts in all parts of the reality. Indeed, we, as the society, can not afford to continue the neglect for prioritizing these matters of using such high efficacy modalities any longer. And, on the apocalyptic mornings with no sunlight due to the thick smoke, we were all reminded of how importwnt it is for our sustainability TO GET TO THE ROOT OF THE PROBLEM BY SENSORY REAWAKENING, AND TO BE ABLE TO REFRAME OUR PRIORITIES FOR COGNITIVE ADVANCEMENT, BY SENSORY RE-ACTIVATION.
We are lucky to inherit J.S.Bach's music therapy tool kit that allows to embody & to RE-PATTERN complex PTSD of cognitive dissonance. Such blind spots that are caused by malfunctions of our brain, can be addressed by dealing with the misfirings of the parts, conflicting with each other, due to their different evolutionary age (as in Fight-or-Flight instinctive response). Modalities, based on J.S.Bach's polyphony RESTORE DISRUPTED BY STRESS AND TRAUMA EMOTIONAL/INTELLECTUAL BALANCE THAT IS CRITICAL FOR THE OPTIMAL BRAIN FUNCTION, And through authentic engagement with BOTH complex intellectual structure AND PASSIONATE EMOTIONAL CONTENT, manifestation of HIGH EFFICACY healing impact can be achieved both for self-growth & for counselors' use in their work with clients.

Dear members of the worldwide family of J.S.Bach's devotees,
If you are among a few of those people who is able to grasp the complexity of the issues, please, show support at the time of EXTREME DISTRESS AND HARDSHIP of the inventor and developer of the above unique tool kit that provides the rare hope for Humanity that is currently in a dire hopeless place... thanks to our bran's instinctive ability to elicit feel good neurotransmitters upon interaction with music.
Partner with us to help us use our UNIQUE ABILITY TO GRASP AND TO ADDRESS THE ROOT OF ALL PROBLEMS AT ITS CORE - the unique methods of coaching, training and retraining musicians to help them regain their emotional freedom, in order to enable them to share it with the public, one audience at a time.

It is the critical step for recovering from the global widespread calamity of SENSORY DEBILITATION that derails our ability to make the sound priorities,and thus, is THE MOST DESTRUCTIVE FORCE IN THE FORM OF THE BLIND SPOT AT THE CORE OF ALL ILLS OF EVERY HUMAN BEING'S, REALITY
Offer your help in action, please, by reaching out TODAY, and be the first to enjoy the benefits of writing your name into the history of the Humankind.
.

* * * * *
EXCLUSIVE OFFER TO THE MEMBERS, SUPPORTERS AND SPONSORS OF OUR EMERGING INT'L CAMPAIGN LIBERATE BACH!
THAT SUPPORTS RECOVERY OF MUSICIANS AND THEIR AUDIENCES FROM THE TRAUMATIC IMPACTS OF THE ABSURDLY FALSE CONVENTION OF EMOTIONAL SELF-REPRESSION

.
YOUR PERSONALIZED MESSAGE to a power figure of your choice
can be amplified by the worldwide audiences' support and cheers, led by

Timeless Genius Music Therapist J.S.Bach, who comes to life through his music to unite millions of his devotees to protect and to advocate for the powerless, to empower their voices, & to help them being finally heard and being treated justly, as they speak the truth to power, to those, who are unfit to occupy the power chairs, and yet do so to the detriment of our society. The world will resonate to your musical joke, thanks to being set to his miusic, while witnessing how his music allows to grasp the inner conflict of contributing elements

of their cognitive dissonance through the healing experience of the

cruel absurdities that result from their blind spots. The whole world will be consumed by laughter at the cruel absurdity of powerful abusers,
thanks to being set to the soundtrack of
unidentified for three hundred years and just unearthed by our founder Rozalina Gutman FUGUE-PARODY, filled with unnoticed by sc
holars, teachers, music performers and their audiences dissonant sonorities, composed around the time of his false imprisonment by the persevering through incivility of his contemporaries Genius-CONVICT
J.S.Bach.


Find out about this time-limited exclusive offer for Supporters and Sponsors, contributing to manifestation of her daring recording of the funny maverick & related efforts of

exposing senseless

lies about J.S.Bach, with implications for brain sciences & throughout society
NOW is the special opportunity TO WRITE YOUR NAME INTO THE HISTORY! Join the progressive vanguard of our society: BE AMONG THE FIRST TO EXPERIENCE, TO MASTER & THEN TO HELP LEAD THE REST OF THE WORLD AWAY FROM THE CURRENT SELF-DESTRUCTIVE PATH FOR OUR CIVILIZATION, by reawakening the resonance to our souls' purposes, and
re-patterning of the unfitting inertia of the human brain's plasticity, by reflecting and embodying this conscience awakening through Music and the Arts